The deepest greens, brightest blues and purest whites you've ever seen...
Our journey begins beside the pristine, turquoise waters of Italy's largest alpine lake; Lago di Garda. You'll explore scenic lakeside villages and walk through hidden meadows high above the clouds. You'll witness the rugged peaks of UNESCO World Heritage Site Dolomite mountains (Italian Alps). You'll travel further north to the unparralled beauty of Switzerland's Jungfrau region and Lauterbrunnen valley. This journey is a once in a lifetime experience!
Journey highlights!
- Experience Lauterbrunnen Switzerland "Valley of 72 Waterfalls". This is, hands down, one of the most spectacular locations in Europe. Vertical cliff walls, deep valleys, misty waterfalls and the unimaginable heights of the Swiss peaks. Here, all of Switzerland's beauty unites, leaving you absolutely breathless.
- Discover the most scenic mountain top villages of Wengen and Mürren. Journey further (by cable car or trekking) to the high altitude destinations of Männlichen and Schilthorn.
- Walk through epic wildflower gardens on trails blazed between the bright blue lakes of Thun and Brienze on the Schynige Platte where you can glimpse the imposing peaks of Eiger, Monch and Jungfrau.
- Visit a 4th generation wine producer in the valley of Valpolicella. Explore the vineyard, cellar and learn about the ancient Appassimento method used to create Amarone (a dry red wine made by drying grapes for up to 6 months).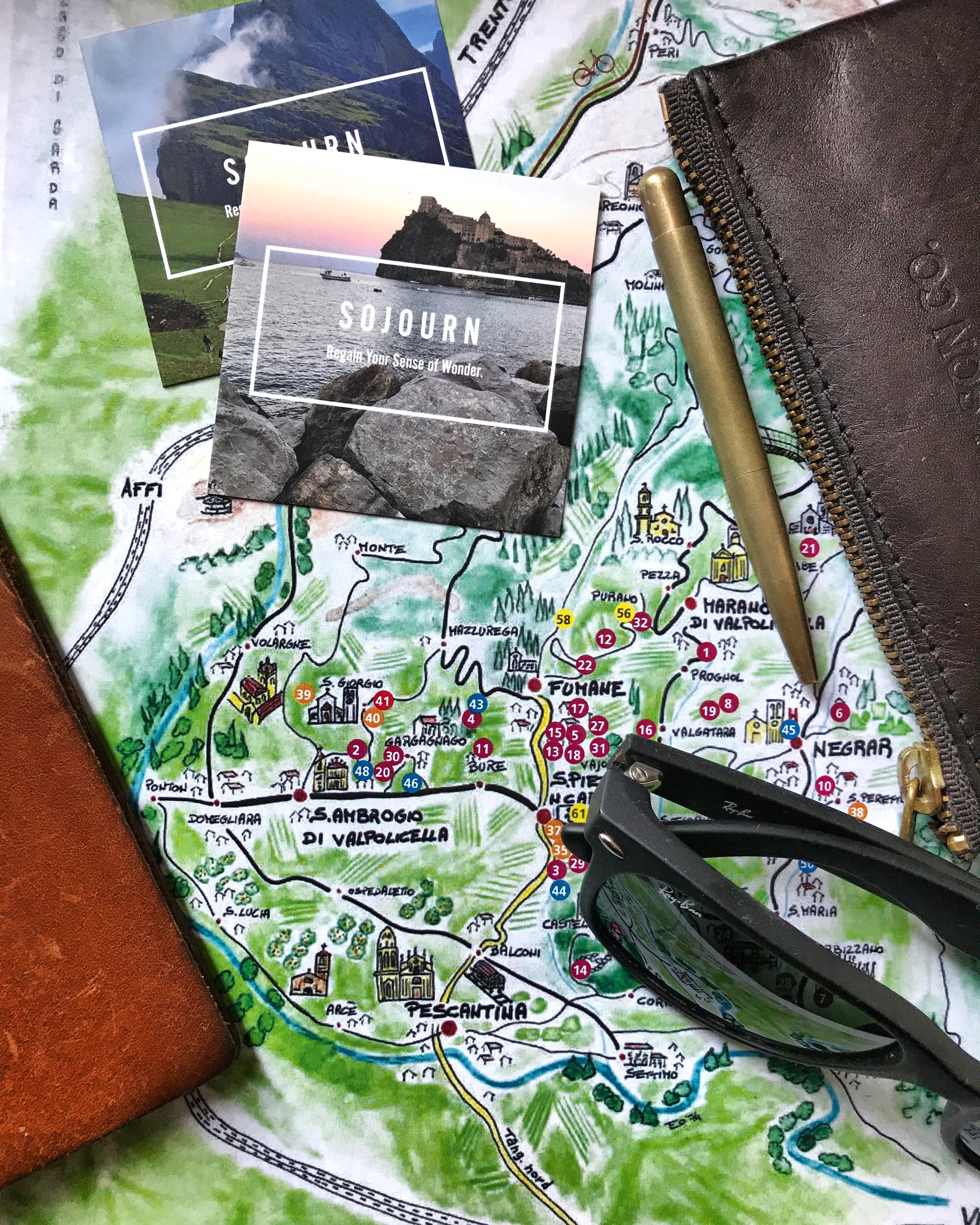 These are the most stunning locations in northern Italy and Switzerland. This is the journey of a lifetime.
Anthony J. Carro, Sojourn
- Eat traditional, regional dishes like Risotto Amarone prepared by the vineyard's family members.
- Traverse stone spires, flower carpeted meadows and experience authentic Austrian-Italian cuisine at a family run mountain hut (rifugi) in the majestic Italian Alps.
- Wander the fertile, volcanic hills of Veneto on horseback. Ride at your pace until reaching the hilltop vineyard of Soave (a white grape variety grown from this region's rich, volcanic soil). Taste several vintages and learn about this special wine before returning while the sun sets in the distance.
- Medieval castles, natural thermal pools and secluded beaches in the lakeside villages surrounding Lake Garda (Italy's largest and most stunning lake).
- Breathtaking vantage points, paragliding and canyoning adventures in Malcesine & Torbole. (Optional)
All itineraries are fully customizable and may or may not include all items listed above.
Journey Details:
What's Included: Private airport transfers and journey transportation by van, 4 ferry crossings, 15 incredible meals, all journey accommodations, entry and activity fees.
What's not Included: Airfare, activities, transportation and meals not listed in the itinerary along with travel protection and insurance.
*Activity Level: Our journeys are physically active. This is an important part of traveling like a Sojourner! On our Journeys — among other things — you'll need to be ready willing and able to 1) Carry/roll your luggage over uneven pavement (several blocks if necessary) and up stairways to reach your lodgings; then up several flights of stairs to reach your room. 2) Be on your feet, walking, standing and sometimes hiking for three to eight hours, indoors and outdoors, in all weather conditions, on varying types of terrain and elevation. 3) Sleep with street noise and no (or weak) air conditioning. After orientation and transportation lessons, be able to navigate through the city on your own.
Accommodations: Your Journey Pass includes one double room with one queen size bed or two twin size beds for 2 guests. We stay in small, boutique B&Bs and not hotels. A single supplement will apply if you require an additional room.
Meals: Travelers must make Sojourn Italy aware of any dietary restrictions and allergies 96 days prior to departure. 13 outstanding meals are included on this journey. All included meals are listed in the detailed itinerary.
Cancellation / Transfer Policy: Deposits for journeys are 100% refundable for 30 days from the date they are received. After 30 days your deposit becomes non-refundable, and will be forfeited should you decide to cancel your reservation. Cancellation Fees: 96+ days prior to trip start - $200 per person (including the contest winner). 61-95 days prior to trip start - 30% per person (including the contest winner). 31-60 days prior to trip start - 60% per person (including the contest winner). 0-30 days prior to trip start - 100% per person (including the contest winner). If you must cancel your reservation, your cancellation fee will be determined according to the policy outlined below. Exceptions to our cancellation policy cannot be made for any reason, including weather, terrorism, civil unrest or personal emergencies. There is no refund for arriving late or leaving a trip early. Percentage charges are calculated on the total trip cost, including the value of the contest winner's free journey pass. Cancellations must be in writing: sent via email to anthony@sojournitaly.com. Cancellations become effective on the date received by Sojourn Italy. You may transfer from one date to another, for this journey only, up to 96 days before the trip departure without penalty, after which time our cancellation policy applies. New journey dates are subject to the availability and full discretion of Sojourn Italy, LLC. When transferring to a new date or trip, if the new trip costs more than the original trip, you must pay the difference in cost. Your transfer request must be approved by Sojourn Italy, LLC.
Traveler Protection: Sojourn Italy, LLC. does not offer a Travel Protection Plan. It is your responsibility to research a plan (if you wish) that covers: trip cancellation for medical reasons, trip delay, medical expenses, accidental death, lost baggage and medical evacuation.
Other: All guests will be required to sign a travel waiver before departure. Passport required for all guests traveling outside their home country. most countries require that your passport be valid at least 6 months beyond your trip dates.